I'm back! I missed my recap last week, but I'm going to quickly zip through a training recap. You can also read all about my recent trip to Lapland (Northern Finland) on this post. Check it out!
Training has been a bit secondary to travel, but I'm now 16 weeks out from Vienna and ready to get a bit more focused! Here's how things have been going:
Week of Dec. 19-25
Monday: 7 mile run before work, Iron Strength day 16 / Hamstrings after work
Tuesday: 7 mile run before work, Iron Strength day 17 / Upper Body after work
Wednesday: 5 mile run before work + a 5k over lunch with my colleague Nicole
Thursday: WFH so Dustin joined me for a long-ish run, 10 miles with a double-lap of Regent's Park. Followed the run with Iron Strength day 18 / Glutes.
Shorts and a tank in December!
Friday: Fly to Kittila, Finland! We had to go through Helsinki, Finland from London, so it was a long day of travel. Rest day, though I did get all the steps in through the airports.
Saturday: Rest from running, our first day snowboarding at Levi. It was quite cold that day, but beautiful! That evening, we met up with our friends from Minnesota for a Christmas dinner together (which was pizza & wine!)
Sunday: Christmas morning run with Dustin- it's our tradition! Just 5 miles on a snow-covered (but not slippery) trail in Levi. I can't even describe the color blue of the sky; it was stunning and my iPhone probably doesn't even do it justice!
After a Christmas breakfast with our friends, we headed back to the slopes for another day on the mountain. There were clear skies and though the daylight above the Arctic Circle this time of year is limited, the light that was there was so breathtaking. Absolutely beautiful day. I kept stopping to just say, "WOW. This is so pretty!"
Summary: 37 miles of running, 8 miles of walking, 3 Iron Strength classes, attempt at daily core on Peloton (not perfect). Plus snowboarding!
Week of Dec. 26- Jan. 1
Monday: Rest from running, snowboarding at Levi followed by an overnight at an ice hotel (read more on this post.)
Tuesday: Rest from running; everyone was tired from not sleeping all that well at the ice hotel, so even Dustin took a nap (he's not a big napper).
That afternoon we did a husky sled ride with Tundra Huskies, followed by an early dinner at Nili Poro, a traditional Lappish restaurant.
Wednesday: An early morning to head to the airport to make our way back to London (via Helsinki again). After returning, I squeezed in Iron Strength day 19 / Full Body. After not strength training for several days, this class left me quite sore! Funny how that works after not lifting for awhile…!
Thursday: Back in London and happy to get back to my regular running routine, 7 miles before work. Legs were definitely fatigued from snowboarding and from travel in general.
Friday: Another 7 mile run before work + Iron Strength day 20 / Arms & Core (loved this one)
Saturday: Back to Saturday long runs, with Dustin again. We did an exploratory route through Hampstead Heath to Highgate to Muswell Hill to Alexandra Palace and back for 12 miles of mud, rain, and hills! It was a tougher long run. I was pretty fatigued afterwards!
Drenched!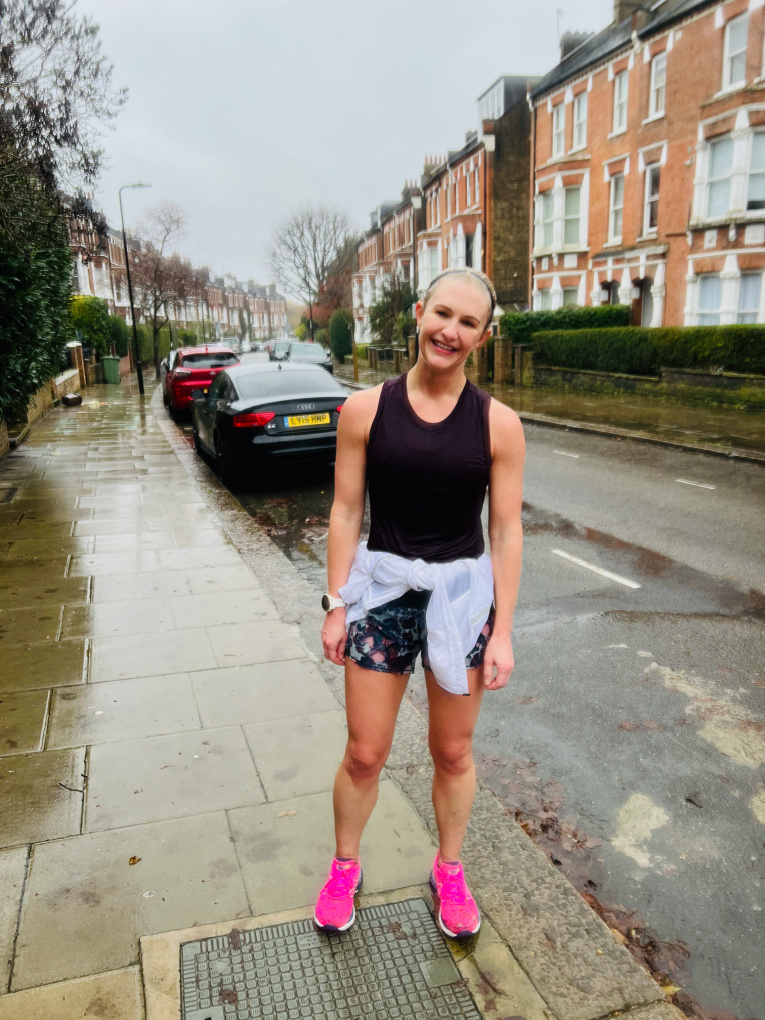 It's been raining a lot in London, so I bought Ruth and Matilda rain jackets from a company called VizslaTea. I used to think dog rain jackets weren't necessary, but they are in London!
After a busy time in Finland, we didn't bother making any special plans for NYE, and instead had a cozy night in with the pups, cooking dinner and watching Glass Onion on Netflix.
We did walk over to the Heath and up Parliament Hill to watch the fireworks at midnight, which was pretty cool!
Sunday: 7 mile run with Dustin and Ruth through Regent's Park and back.
Summary: 33 miles of running, 2 Iron Strength sessions (maybe a 3rd today) and attempt at 10 min daily core on Peloton. 10 minutes of daily core is one of my 2023 goals as well! I think its really helpful for me as a runner, even if just 10 minutes a day.
One of my other random goals is to unsubscribe from 3 email distribution lists a day. Ha! So much junk email.
Well, that's a wrap! Wishing you a very happy new year. Thank you for following along on my blog in 2022. It was a challenging year in many ways, particularly with the loss of my mom in June and the adjustment to life in London (which has its pros and cons.) I look forward to less of a rollercoaster year in 2023 and I hope the same for you!
I'm linking up with Running on the Fly and Confessions of a Mother Runner; check out their blogs to connect with other fitness bloggers for workout ideas and inspiration!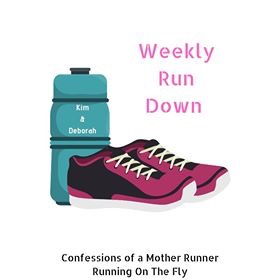 (Visited 205 time, 1 visit today)


Credit : Source Post