It seems like everywhere you turn or scroll these days, there's another trending skincare routine or "must have" tool. But the ancient art of gua sha is a skincare tool we can get behind – and one you can feel the benefits of almost immediately.
So exactly what is this buzzy skincare tool with ancient roots? What does science say about its benefits? How do you use it, and which brands (should you be convinced your routine does indeed need to include gua sha) can you feel good about supporting?
Read on for everything you need to know about gua sha technique, benefits and best brands.
 
What Is Gua Sha and What's the Science Behind It?
The technique of gua sha is an ancient art that's been around for thousands of years and boasts pretty impressive benefits. And while it's having a moment among skincare junkies now, its roots go way, way back – to ancient Chinese medicine.
Gua sha is first mentioned in an ancient classical Chinese medicinal text from around 220 CE, and was originally designed as a body treatment to aid in everything from pain reduction to gastrointestinal issues.
 
As of late, Gua sha is a facial treatment to encourage drainage and fluid reduction by applying pressure in a gliding, scraping motion.
 
While jade "scraping" is the action associated with gua sha (the literal translation is to "scrape sand,") think of it much more as a gentle gliding, using a smooth piece of jade or stone in most cases.
 
 
What Are the Health Benefits of Gua Sha?
While the health benefits of gua sha and its history go much deeper than only a facial treatment, now, we're focusing in the remainder of this article on its application and benefits for the face only – which is how it's been popularized as of late.
The health benefits of gua sha as a skincare tool are mostly related to encouraging healthy drainage of fluid or inflammation beneath the skin, thanks to a repeated gliding motion over the skin. This is said to break up blocked energy, or chi, in the body.
Heard about lymphatic draining in the context of dry body brushing? Similar thought process, different technique! Read Dry Brushing: Your Step-by-Step Guide Plus 5 Key Benefits of This Ayurvedic Practice
More chiseled cheekbones, lift and less puffiness in the face – from a complete non invasive and soothing procedure? Here for it.
Other associated perks can include softening of wrinkles and fine lines, stimulated circulation as well as collagen production, and of course, less facial tension and relaxation. Think of it as a supercharged massage for your face!
 
How to Use Your Gua Sha Skincare Tool
Don't let the term "scraping" scare you off from the art and health benefits. As with most facial techniques we like, it's gentle and painless when done correctly.
While the following steps will get you started on the right path, to reap the full extensive benefits and honor the history and wisdom of the practice, seeking out education from a trained professional is always best!
 
1. Prepare Your Face
The first and perhaps most crucial step – seriously, don't skip this – is to liberally apply a facial oil or serum to a clean face, for a smooth, gliding motion. You never want to drag or pull your tool along delicate facial skin! After washing your face, apply a rich facial oil like this one, or a serum that will provide plenty of glide.
If the stone starts to drag, you may need to reapply more during the process.
 
2. Massage Your Face With Your Gua Sha Tool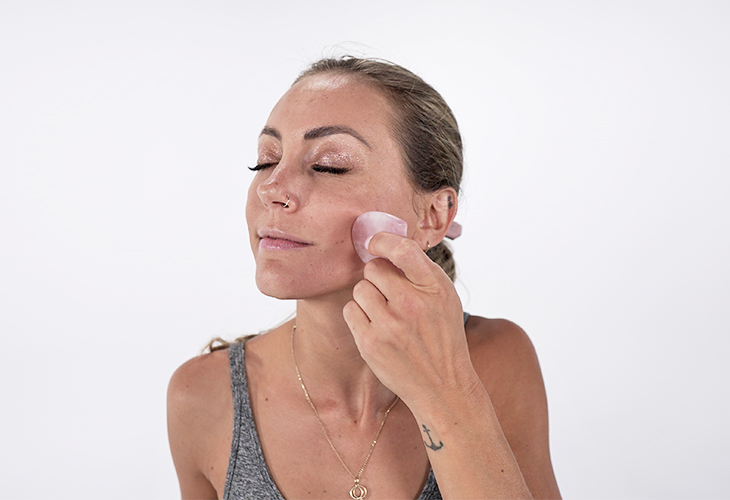 Using gentle, long, sweeping motions, repeatedly and without too much pressure, massage the tool along the jaw, the cheekbones, under the eyes, above the eyebrows and forehead.
For maximum health benefits and lifting perks, you'll always want to use upward motions.
For example, when you gua sha your jaw line, start from the center of your chin and then gently drag the gua sha tool upward tracing the line of your jaw all the way up to the base of your ear. Repeat on the other side.
 
3. Experiment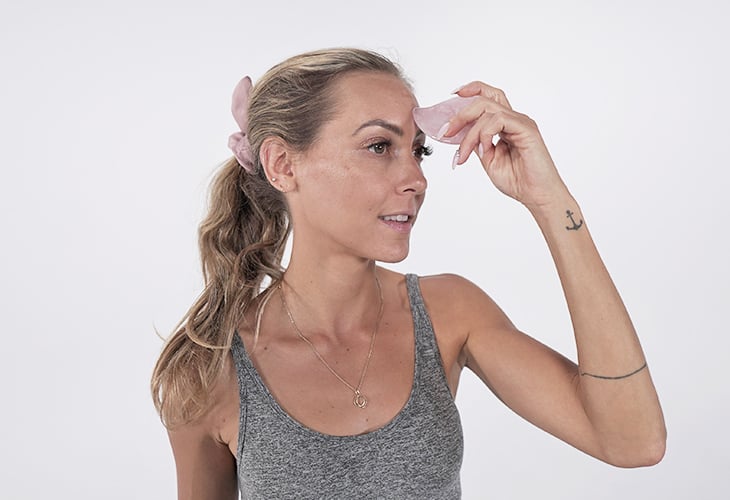 You can experiment with different anglings of the tool, for example using the heart-shaped piece to massage along the jawbone vs. using the longer plane of the tool for smooth, broader areas like the forehead. Repeat sliding motions on each side and experiment with what feels best for you.
 
 
5 AAPI-Owned Gua Sha Tool Brands to Support:
If you're going to use a skincare tool rooted in Asian medicine and practices, seize the opportunity to support AAPI-owned brands. With these following skincare and gua sha brands, you'll know your money is supporting an AAPI-owned company and also getting you a high-quality, beautifully crafted tool for gua sha!
 
Think of it as a supercharged massage for your face!
 
While most tools are traditionally made with jade, you can find beautiful tools made of rose quartz or stainless steel. Frankly, you can reap many of the benefits from household objects like a spoon, but there's something to be said for the ritual of using a beautiful tool that makes the process feel like a spa treatment.
 
1. Pink Moon
The Pink Moon rose quartz gua sha tool ($35) is as gorgeous as it is effective, and comes with instructions and a velvet carrying bag. Their tools are hand-crafted and their founder Lin creates the tools to honor her own Chinese heritage.
They're also huge proponents of connecting users via workshops with more extensive education from licensed experts who can teach you much more than this brief article.
 
2. Sacheu
Unlike the others on this list, Sacheu makes a gua sha tool ($35) made completely of naturally antibacterial, non-porous stainless steel, which helps reduce any bacteria that could transfer to the face and potentially cause acne. The stainless steel also remains naturally chilled for added soothing de-puffing benefits.
 
3. Yina
You can find Yina, a gorgeous tool from Sephora ($28-$38), in a variety of stones from black obsidian, amethyst, rose quartz or jade, depending on your preference.
 
4. Mount Lai
Mount Lai is a stunning all black gua sha tool ($50) sized for use on both the face or body, with extra ridges and curves than the standard shaped tool. The two founders' goal is to demystify and enliven ancient Chinese Medicine and tap into ancient wellness rituals.
 
5. Lanshin
The most up-scape and pricey on this list – but for good reason – Lanshin's gua sha tool ($129) made of all jade, is handcrafted specifically for maximum benefits and healing properties by a renowned Chinese medicine skincare expert, acupuncturist and herbalist.
 
 
Enjoy Incorporating Gua Sha Into Your Skincare Routine
These tips and resources can help you get started with using the art of gua sha as a skincare tool. But to fully appreciate and honor the thousands of years of ancient wisdom and technique associated with it, consider this just the jumping off point for your gua sha routine, not the finish line!

There are many great resources out there from trained professionals, especially to teach you the full health benefits, not just for the face but the entire body!

Unlike so many skincare trends these days, gua sha has literally thousands of years of practice and testimony behind it. Enjoy the soothing, lifting benefits of incorporating this ancient technique into your routine!

Gua sha is just one of many wonderful techniques and applications of Chinese medicine. Educate yourself on other ways to use Chinese medicine to stay your healthiest with seasonal living. Read Use Traditional Chinese Medicine to Be Your Healthiest This Summer (Here's How)







Credit : Source Post