As told to Nicole Audrey Spector
In December 2021, I was fully vaxxed and boosted against Covid and ready to fully enjoy the holidays for the first time since before the pandemic when I suddenly began feeling ill. Sore throat. Achiness. Headache. Incredible fatigue.
This was when the omicron variant was sweeping the nation and at-home rapid antigen tests were hard to come by. My family and I lucked into a few, and I immediately tested myself.
Negative. I was shocked. I thought for sure I'd finally caught the deadly virus I'd managed to dodge for nearly two years through a mix of caution and luck.
Since I still wasn't feeling well and didn't want to expose anyone to my germs, Covid or not, I sat the holidays out at home. Right before New Year's, I was feeling better and still testing negative, so I went to a small gathering.
A couple of days later, my symptoms returned with a vengeance. Not only did I have a sore throat, fever and achiness, but my stomach began bothering me as well.
By the following Monday, as everyone was returning to work, I tested myself for Covid and was negative again. I was still sitting at the kitchen counter when my stepdaughter walked in and said, "Have you heard? They're saying that, for the omicron variant, you should swab your throat* instead of your nose."
I hadn't heard this. Would swabbing my throat produce the evidence needed? Were all these other tests wrong?
I swabbed my throat — and the test turned positive before the control line even showed up. A PCR and antibody test later confirmed these results.**
I had Covid. And I'd probably had it this entire time. My mind spun. I had to handle breaking the news to work and family. And then I'd have to call my kids' school and let them know. I'd also have to secure more tests. And although working remotely, I absolutely could not afford time off. We were in the midst of a huge product launch and I, a C-suite executive at my company, was leading our digital commerce.
My team would be understanding, of course, but I'm not the type of person to give up. I would just have to make do. It would be difficult, surely, but then I would get better and it would all be like a bad fever dream, and I'd look back on it and think, "Remember when I worked and slept, and worked through Covid? That was a nightmare!"
I talked to my team, who was, as expected, compassionate. I told them I would take breaks as needed but still get my fair share done. The days passed in a blur of pain and fatigue and fever. I worked from bed and napped whenever possible, then worked into the evening. This is how life went for weeks. Until I just couldn't any longer.
Sam, getting a Covid booster, October 2022
I never bounced back. I never got better. I have yet to be able to look back and say, "What a nightmare that was." I'm still in the nightmare more than a year later. And the nightmare is so much more agonizing than I ever could have imagined.
Some symptoms, like the sore throat and the accompanying Demi Moore voice, cleared up, but other symptoms, like the stomach issues and the fatigue, got worse. New symptoms came up, including migraines and dizziness, brain fog and cognitive dysfunction, chronic pain from the neck down, heart and lung problems, vision changes, weight loss and dysautonomia.
As my symptoms piled on over a matter of weeks, I became confident that I had long Covid. Fortunately, when I told my primary care physician (PCP) this, she did not doubt me. She was supportive and immediately recommended a vestibular therapist to help me with my dizziness and concussion-like symptoms and referred me to a post Covid-19 care clinic.
It was around this time that I began noticing my sensitivity to sound and speech issues. It all started with the singing of "Happy Birthday" at my daughter's 18th birthday party. As the song picked up and the noise elevated, I started shaking and I was riddled with goosebumps. I just couldn't handle the avalanche of sound. It turns out that sudden loud noises (even our dog's barking) can cause my nervous system to go into high alert. This directly affects my speech pattern, which becomes staccato, or choppy.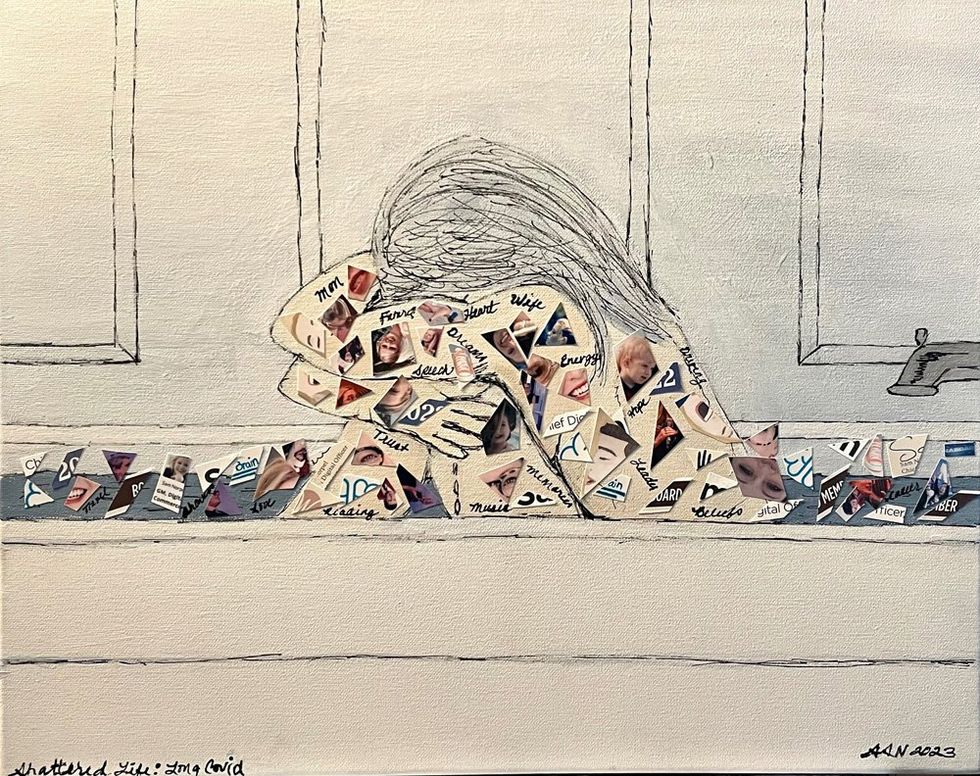 Sam uses art as a coping mechanism to deal with how much her life has changed. She created this mixed media artwork, "Shattered Life: Long Covid," in February, 2023.

I have zero control over it. I cope by basically living in noise-control earphones and sunglasses. I also am exceedingly mindful of what fabrics I expose myself to. Something crinkly, like a rain jacket, or "loud" can set me off. Additionally, when I get cold, I usually experience an episode.

By May 2022, I could no longer work because of long Covid and went on disability. I am the breadwinner in my family, and the financial impact has been extremely challenging.

It sounds torturous, and it certainly isn't pleasant, but I think the worst part of long Covid has been the unbelievable physical pain and fatigue. I'm on medications to help with relieving my symptoms while we wait for a cure.

I used to have maybe 16 to 18 wakeful hours a day that were all deliciously mine. Now, I have maybe three to five hours a day max before I'm totally fried, and I spend my days mostly resting. I miss the little things. I miss showers. Now I only take baths for fear I will collapse from standing too long. I miss driving.

But I'm not giving up on joy. And hope.

When I get low, I think of all those who may be potentially helped by hearing my story. Even if it makes just one person feel less alone on their journey, that's enough to make this all worth it. And even if I only get a few hours a day, I make them count.

*Currently, at-home antigen tests in the U.S. are only approved for nasal use.

*Some post Covid-19 care clinics require a positive PCR test for admission, so it may be a good idea to confirm a positive home test with a PCR just in case you need that documentation in the future.

This resource was created with support from Pfizer.

Have a Real Women, Real Stories of your own you want to share? Let us know.

Our Real Women, Real Stories are the authentic experiences of real-life women. The views, opinions and experiences shared in these stories are not endorsed by HealthyWomen and do not necessarily reflect the official policy or position of HealthyWomen.

From Your Site Articles

Related Articles Around the Web



Credit : Source Post